Assets and Differences
Why should you trust ORTHOFOODS to develop and manufacture your food complements?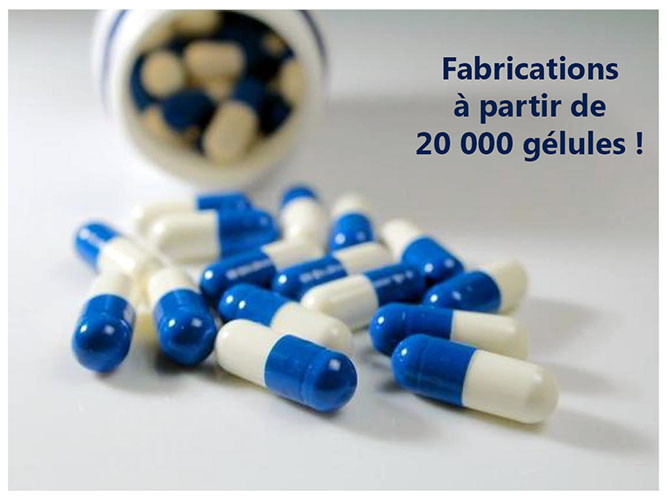 What makes our strength? Firstly it is the professionalism of our team paired with the best semi-automatic machines. Secondly, It is our reactivity and flexibility regarding our client's requirements. Finally, it's the short manufacturing deadline. We can programme and manufacture within a maximum of two months. Moreover, the small scale of our company allows us to make small productions (from 20 000 capsules).
Source: CCI Mag
THE specialist for the formulation in capsules
ORTHOFOODS Laboratory helps a dozen companies within european to customize their food complements brands in capsules or powders only.
We can accompany your company to creat a ready to sell product from the formulation to the packaging, in diffrent format : blisters, bottles and doypacks.
We guaranty the quality of our products we make a point of providing the best quality of raw materials at the best price available on the market.
To be specialized also means to always try to improve ou productions methods. This is the reason why our team always aim to provide the best service. We are open to constructive input from our clients to grow and guaranty a service of quality.
Speed concept
Our "best sellers" line ready to use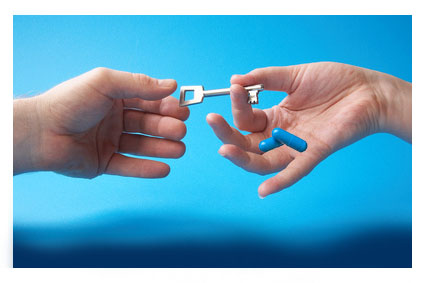 To help our customers fully benefit from our expertise in orthomolecular medicine; we have created a full line of products ready to use.

16 orthomolecular complex improved and ready to be registered at the ministry in Brussels. The line is available in the shortest time possible.
Slim/Drain 1 ✓

Tonic. 2 ✓

Immunity. 3 ✓

Sight. 4 ✓

Remineralisation/ Joints. 5 ✓

Genitourinary for her. 6 ✓

Genitourinary for him. 7 ✓

Dander. 8 ✓
✓ 9. Ménopause

✓ 10. Sun protect

✓ 11. Blood circulation

✓ 12. Oméga 3

✓ 13. Oméga 6

✓ 14. Choesterol

✓ 15. Belly health/Intestines

✓ 16. Stress / Sleep
Custumized formulas
A formula idea?

Our scientific team help put together the formulas and accompanies you in the proceeding to register them.
We want to put our expertise and flexibility in the field at your service.
Each demand is treated individually and confidentially from start to finish.

The best quality at the best price!
This quality policy generates a cost price for the finished product that is slightly higher than the cost of conventional manufacturing, which we can find in the discount market. These products, however, usually can't provide reliable traceability, raw materials quality and realistic expiration dates. To guarantee that our customers remain competitive on the market while offering their own client base the most efficient products. ORTHOFOODS Laboratoires has decided to reduce the margin on the production cost. We believe that a higher quality product at a lower price is in the best interest of the final consumers. It will also help build a long term relationship between our company and our customers.
His choice is to support his clientele following his ethics. Knowing that our clients primarily seek their consumer's satisfaction and loyalty. We believe that they also have the ambition to flourish in the market.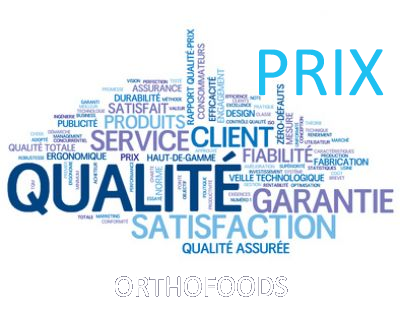 Our strength : Our clients
Our company took the decision to select a clientele following our company ethics. Our customers primarily seek consumer satisfaction and loyalty as well as the sustainability of their brands and products. In addition, we want to ensure that our partners can proudly display on their packaging the name and logo of ORTHOFOODS Laboratory. Our ambition is that our name would become a real advantage for our partners. We maintain a privileged relationship with our clients and consider them not as mere prospects but as full partners.
The laboratory clients/partners around the world
ORTHOFOODS Laboratoires has a very diverse clientele. Its central geographical position favors it in terms of European contacts and the quality of its orthomolecular manufacturing services is now recognized outside the continent. The immediate proximity of Brussels-Charleroi airport (2km) allows it to deliver its products as quickly as possible to all countries of the world ...